What does Popular Science Mean to Me?
22 Jan 2022
(See here for the original Mandarin version)
In the past month, I've been mainly working on preparing this two-week-long mini-course on computation. Unexpectedly, an incident in the last few days of the mini-course made me seriously rethink about what's the essence of popular science. Do we really need popular science? Could popular science harm scientific progress?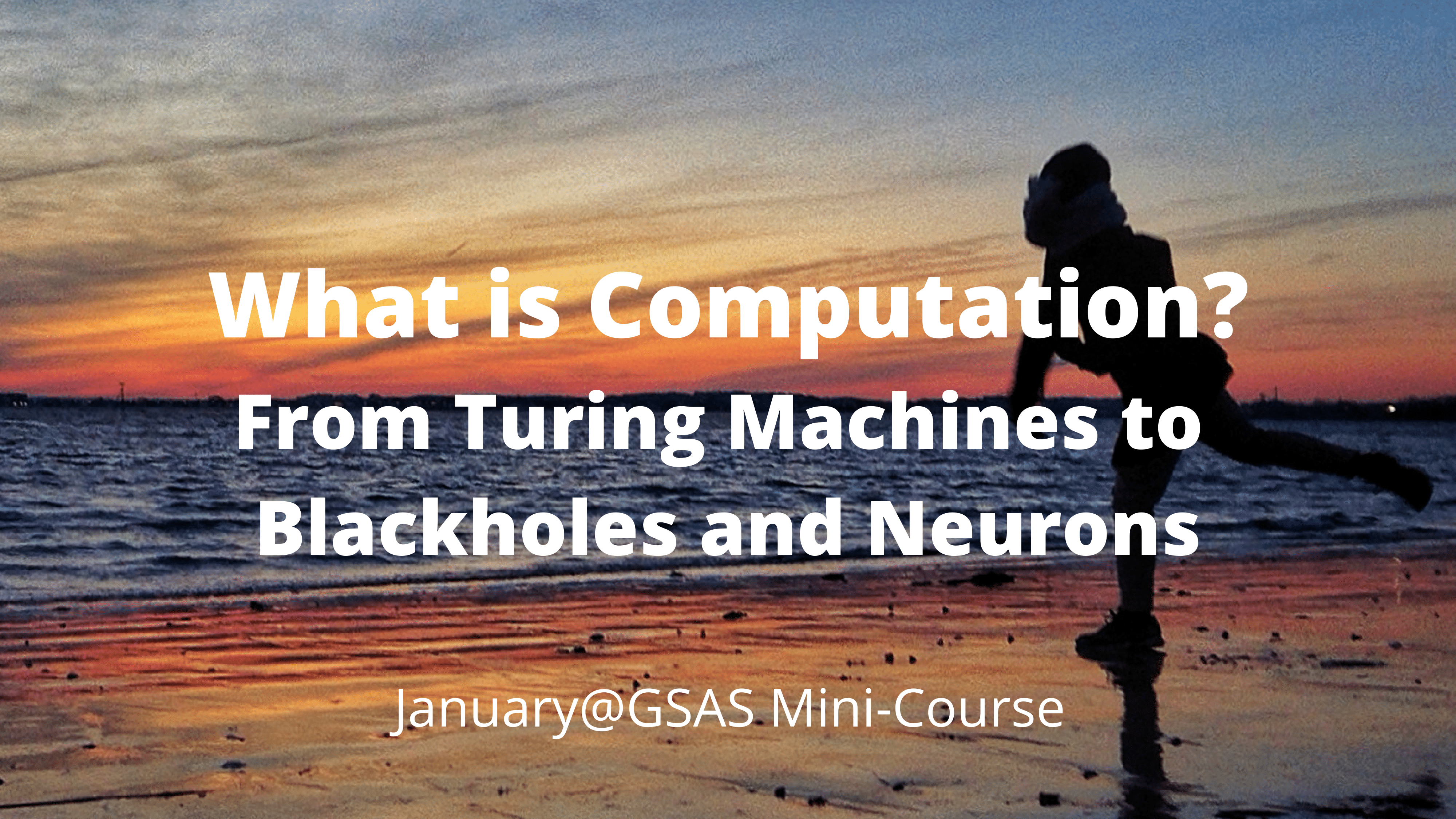 But anyway, let's start by clarifying the definition of popular science! If we think a few steps further, we will notice that there are lots of different forms and levels of popular science!
Public Media: from news, radios, podcasts, videos to magazines, these are probably the most common source of popular science for the general public. Thousands of media workers try hard to translate frontier scientific research into a language that ordinary people can comprehend every day. However, the quality of popular science in this category could vary significantly. Many people live with exaggerated headlines in the jungle of market competition, while some hold on to professional persistence and win many diehard fans.
Popular Science Books: if one has more time and effort, popular science books are probably the next common source of popular science. Similarly, there's a wide variety and diverse level of books in the science section in a bookstore. Either being written by outstanding scientists or forwarded by famous public figures, popular science books are usually more focused on a specific discipline ranging from physics, chemistry, mathematics, biology, psychology, and beyond. Unlike public media, popular science books are usually more systematic and sometimes even have multiple books published as a set. Nevertheless, since popular science books are not textbooks and are facing the general public, their contents still tend to focus on high-level stories and assume less educational background from the readers, sometimes even omitting some details.
Online Courses: I sometimes envy the kids nowadays who can easily access online lessons from top universities. Even though some online courses might be simplified, through homework, interactions on online forums, or even simple experiments, it's easy to achieve learning effects that cannot be done merely by reading popular science books.
General Education Courses in Universities: These are perhaps the highest popular science level. In a university's GenEd course, the professor will have an entire semester to teach, and the students also have much more educational background than the general public. Even though the major of the students might not match the topic of the course, the professor could still cover broader and deeper content since college students usually have a basic level of logical thinking and communication skill. For example, last semester, I was a teaching assistant for the GenEd course "Science and Cooking" at Harvard (there's also an online version, but it is much simplified). In about three months, the professors explained many fundamental physics and chemistry concepts that are usually only taught in (elementary) professional courses to students from all departments.
What about the position of my mini-course? I locate it at the level between an online course and a university's GenEd course. Indeed, I sacrificed the depth of the mini-course due to the broad nature of the course's content. Meanwhile, I also expect myself to put enough insights and core concepts so that the students can have more foundation for their future explorations. As a next step, I also plan to start drafting a popular science book about the same topic of this mini-course. Hopefully, I can use these different formats to present my understanding and thoughts on the cross-disciplinary knowledge about computation.
What's the Purpose of Popular Science?
I believe everyone must have slightly different opinions on the purpose of popular science. Some might think the goal is to turn abstruse scientific knowledge into something comprehensible for the general public. Some might think this is an excellent way to gain popularity. Some might simply enjoy the process of teaching and writing.
But in my case, my original motivation for doing popular science is two-fold: first, let people around me know better about what I'm doing. For example, I wrote a book (in Mandarin) about computational complexity before I graduated from college and sent physical copies to friends and families. Even though my mom and dad didn't seem to finish the book, a friend of mine spent six months reading the book without any prior background, and now she has a rough sense of binary numbers and Turing machines! Second, writing popular science articles also serves as a process of meditation and elevation for me. Throughout the writing period, I have to keep challenging my understanding from the bottom to the top and guessing what could be the potential confusion for readers. It's often the case that I could come up with an unexpected narrative and understanding after multiple rounds of back and forth thinking and writing.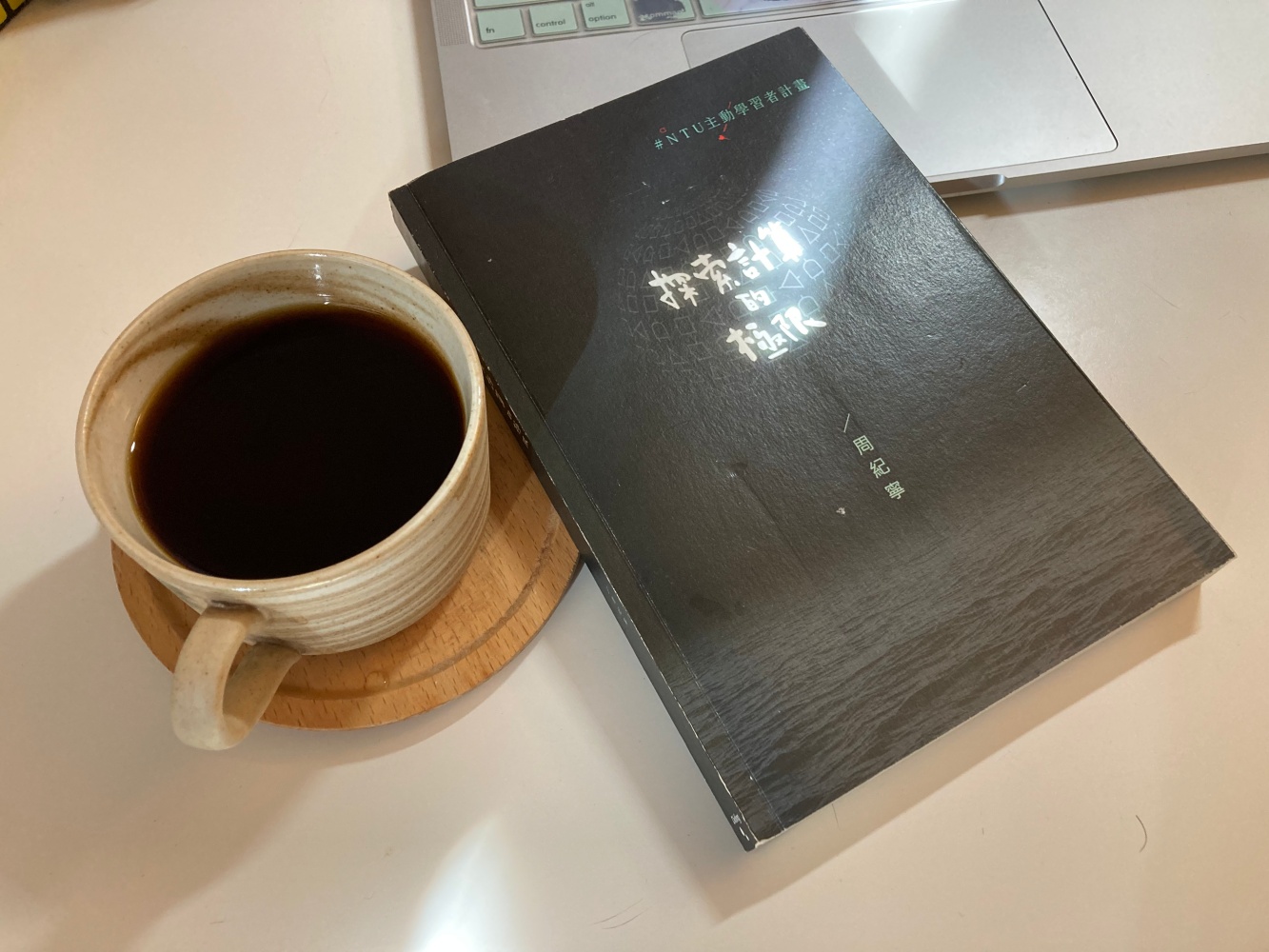 However, looking at my mini-course, the time and efforts seem to be disproportional to the motivations described above. Indeed, another big incentive is the joy of interacting with the audience, readers, students from teaching and writing. At least to me, such pleasure is always irreplaceable from any other experience.
Ok, are these all popular science mean to me? Standing from a more objective perspective, I have a few words to say.
The knowledge distribution is still highly uneven under the current education system. From my own experience, I vividly remember how shocked I was after I knew the high school education of my cohorts at National Taiwan University (sadly, I'm the one with fewer educational resources). If one doesn't have good books and materials for learning, then no matter how smart they are, it's just impossible for them to create the knowledge from thousands of years of human wisdom from scratch. After coming to Harvard, I was further astonished by the importance of big pictures and how that can make a huge difference. Having good basic concepts and understanding the big directions and appreciation in a field as early as possible can drastically improve learning efficiency. However, suitable materials and big pictures are still not that approachable to ordinary people even though we are now in an era of the Internet.
Everything should be made as simple as possible, but not simpler.

- Albert Einstein.
On the other hand, there's another special role of popular science in modern society: enhancing the interaction and learning across different disciplines. And this is precisely the core value of my mini-course. As each (scientific) field has been flourishing in the past few decades, frontier knowledge also becomes more involved and abstruse. In the meantime, the purpose of cross-disciplinary interaction and learning is a bit different from receiving a solid undergraduate or even graduate training in a field. The focus would be on exchanging core concepts and tools to inspire each other with new ideas in their original field (of course, there are different types of interdisciplinary interactions).
The Danger in Popular Science
Next, let's move on to the central topic of this article: could popular science be dangerous?
From my observation, there are three main arguments against popular science: (i) popular science would create an illusion of knowing a lot, (ii) popular science makes people lazy, and the learning effect is not solid, (iii) the oversimplification in popular science might even turn the scientific progress backward.
I agree with the first two criticisms. Some "bad" popular science resources can easily cause such issues in society. But I also want to point out a blind spot of these arguments: those who will have the illusions mentioned earlier after reading/watching/studying popular science would easily have similar illusions anyway without popular science! On the contrary, if the quality of a popular science resource is high, it can let the audience realize more about their ignorance and build up the motivation to pursue further studies (if they are not entirely laypeople). This attitude is also what I want to emphasize in my mini-course!
Our knowledge can only be finite, while our ignorance must necessarily be infinite.

- Karl Popper.
So to me, (i) and (ii) are more like a reminder for popular science workers rather than an actual danger.
As for (iii), this might be a bit subtle, and as a junior member in academia, I would like to provide a few of my thoughts and hopefully stimulate more discussion on this line of debate!
Does science keep progressing? If research cannot push the "progress" in science, could it still be an excellent scientific study? In the ivory tower of academia, one might have been learning the so-called "correct" scientific knowledge and hence treating those died-out theories as useless. However, this is not the truth. If we look back at the history of science, most of the existing knowledge is heavily inspired by the "wrong theories" from the past. Moreover, in the scientific frontier, many prestigious theories nowadays were also born from incorrect understandings and hypotheses.
So, I think it's hazardous to simplify the development of science into a single narrative. This might be even more harmful to scientific progress than a bad popular science! From the angle of evolution, following a single voice might explain the world well but also has a smaller driving force to move forward. On the contrary, when there are many variations, even though many of them will be eliminated or move backward, the variations give us hope to move toward the next "paradigm shift"!
Self Reflection and Expectation
I hope I have convinced the reader that a "good popular science" can give more construction than destruction to society, scientific development, and cross-disciplinary interactions. But of course, this depends on what I mean by a "good popular science," and is it realizable in reality? How do we determine the quality of work in popular science?
In my opinion, a necessary condition of being a good popular science is letting the readers/students know what is skipped and simplified and what is unknown to us. In the end, a teacher or a book cannot control how the recipient interprets and understands the knowledge. So outside presenting the materials, it is of great importance to provide reminders and warnings. Let alone popular science, even in scientific research or learning, being humble and knowing what one is ignorant of is extremely crucial. The following is a slide from my mini-course's last lecture, and I hope we can constantly reflect on ourselves.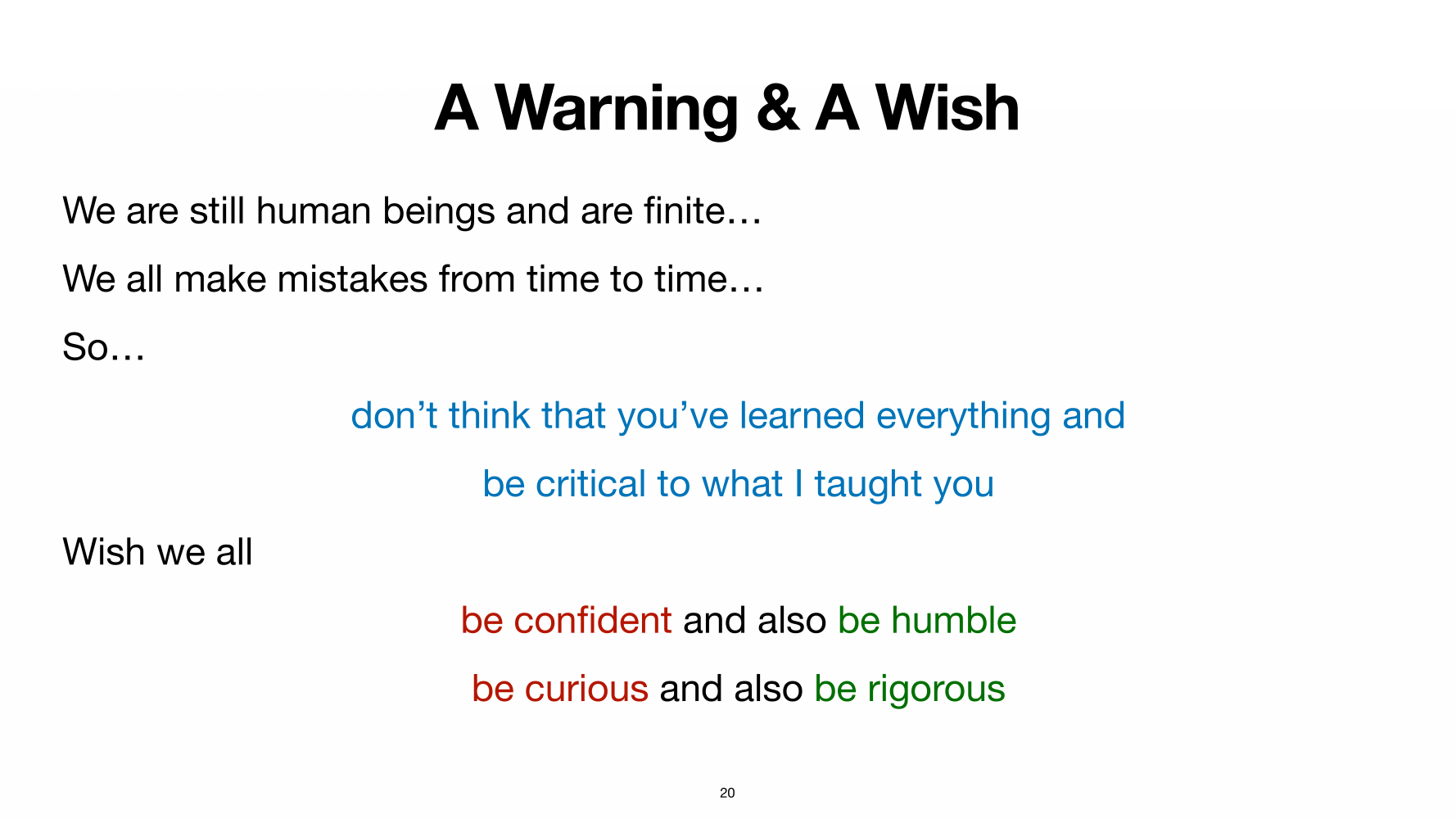 So is good popular science realizable in reality? This is like asking a scientist whether it's possible to have a perfect theory. Namely, it depends on personal belief. At least I'm optimistic since I did see some good books or online lectures. But as for how to determine the quality of popular science, it probably relies on one's eyes and tastes. Like any book or course must have positive and negative comments, and the majority vote might not always reveal the truth, one still has to build up critical and independent thinking.
Finally, I'd like to leave a few sentences for my future self regarding the unexpected incident during the mini-course. When being criticized or attacked, I don't need to have an immediate reaction and even forget to reexamine myself. Everyone makes mistakes, and the most important thing is to accept them and improve oneself from them. Wish me in the future can be confident but also be humble, be curious but also be rigorous.